Will it casserole? Cheeseburger edition
Burger + Casserole = Cheeseburger casserole. Growing up in India I didn't eat too many casserole style dishes, though my mom did have one amazing meat sauce and mashed potato one. But I digress. Ever since I started Keto 5 years ago I definitely got more into making these casserole style dishes. Today we're taking the legendary CHEESEBURGER and making a one pan cheeseburger casserole. This has all the classic American flavours but totally Keto friendly.
It's a simple one pan dish. I mean the less dishes you have to wash the better. Which is why I selected my trusty new single serving size cast iron pan. You can always use a regular frying pan and then transfer the contents to a casserole dish but this just makes life a lot easier. So if you don't own a cast iron pan might I suggest grabbing one for recipes such as this? Sure they take a bit of maintenance and work to clean up but it's worth it. From the stove straight to the oven.
Anyway enough jibber jabber. Let's cook.
Can you use other meats?
Well the truth is, if you aren't using beef, is it still a cheeseburger? Probably not but let's not fuss over the fine print. You can make this recipe with any ground meat you like. You can even use a plant based ground meat substitute to make it vegetarian.
When it comes to serving this dish I just eat it as it is. But if you want to get the whole 'burger experience' then you can eat it with some lettuce, pickles and tomatoes on the side. That way it's pretty much a deconstructed burger minus the bun. Which is great for Keto and low carb folks.
I do however believe that these days you can buy Keto friend and low carb hamburger buns in stores. So why not grab one of those and eat this with that.
Anyway if you've got ground meat that needs to be used I've got tons of awesome recipes. Want to amp up the cheeseburger casserole? Try my Pizza Cheeseburger Frittata.  Or perhaps try something more exotic like my Keto kebab koobideh or my Keto kheema.

Nutrition Information (Per serving)
Calories: 552
Net Carbs: 5g
Carbs: 5g
Fat: 44g
Protein: 37g
Fiber: 0g
This recipe makes 2 servings.  Get this recipe on myfitnesspal.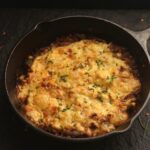 Keto Cheeseburger Casserole
A one pan meal perfect for a weeknight dinner
Servings

Prep Time

2

servings

5

minutes
Servings

Prep Time

2

servings

5

minutes
Keto Cheeseburger Casserole

A one pan meal perfect for a weeknight dinner

Servings

Prep Time

2

servings

5

minutes

Servings

Prep Time

2

servings

5

minutes
250

grams

Lean Ground Beef

30

grams

bacon

about 2 rashers will do

50

grams

Onion

5

grams

Chives

1

Tbsp

Cream Cheese

100

grams

Cheddar or Mozzarella Cheese

1

Tbsp

Keto Mayonnaise

1

Tbsp

Keto Tomato Ketchup

1/2

Tbsp

Mustard

Salt & Pepper to taste
Start by chopping the bacon, onion and chives and setting them aside.

Get your cast iron pan on the stove, add the bacon and turn on the heat to medium. This allows the bacon fat to render own and then fry the bacon.

Once the bacon is crispy add in the onions and cook till translucent.

Then add in the ground beef and season with salt and pepper. Mix well and make sure to break up the meat as you don't want big clumps.

Once the beef has turned fully gray/cooked you can add in the mustard, mayo, ketchup and cream cheese. Mix well till everything is combined.

Turn off the heat and cover the top with the shredded cheddar or mozzarella cheese and then pop it into an oven on the broiler setting to melt the cheese.

Once the cheese melts and gets a bit of colour remove from the oven

Garnish with the chopped chives and serve.